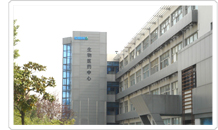 Suzhou Leader Chemical Co.,Ltd.engaged in chemical raw material medicine, pharmaceutical intermediates and fine chemicals research and development, production, import and export trade of professional firms are high-tech enterprises in Jiangsu Province, Jiangsu Province, private technology enterprises. The company, founded in 1998, is located in Suzhou City, high-tech zones, the international biomedical center. Since its establishment, the company staff in their tireless efforts and the enthusiastic support of the broad masses of customers, for fast development. The company has R & D and new products in the test center, and invest in the raw materials drug production workshop.

Leader chemical research and development centers - engaged in research and development center in possession of a synthetic process research and development professionals, is rich in raw materials and other chemicals drug synthesis of R & D experience in the international biomedical center in Suzhou by the enthusiastic support of the platform, have developed anti-tumor type, mental categories, antipyretic analgesic category the new drug, and other raw materials technology, and declared a number of patents for inventions. Professional technical team, a sound laboratory equipment and advanced detection equipment, the Center has a strong industrial process development and improvement of the capacity. In addition, external research and development centers also provide research and development outsourcing, product transfer and registration documents guiding services.
Leader chemical and biochemical branch - biochemical branch building materials that meet standardized drug-production workshop and the pilot production workshop, independent production companies products, a sound quality assurance system. The quality of products in line with BP, EP, USP, and other international standards, over 90% of export sales of products and customers receive recognition. Biochemical branches also attached great importance to domestic and foreign customers CMO (Contract Manufacture Organization) outsourcing contract processing, customer acceptance of the commission, required under the contract to provide clients with customized products production.
Leader chemical Trade - the establishment of the Ministry of Trade, with import and export rights, the company operating the production for domestic and international trade products; While many raw materials for domestic drug, pharmaceutical intermediates, fine chemicals production enterprises with products export business, export trade throughout Asia, Europe, the United States and other dozens of countries and the region, and with a number of renowned international companies to establish a long-term, stable relations of cooperation. We will continue to manly skill in international trade and product expertise with domestic and foreign customers mutual benefits, joint development.